TapCLOUD
TapCLOUD manages your devices and applications. You can use it from a mobile or a PC. Once connected to IoTize servers, this application allows to:
declare your tap modules,
manage your mobile applications (generate, download,...),
perform firmware update.
First time users
Simply create an account then register your device(s).
Click on the Burger icon to toggle between menu and detail windows.
Apps
Displays all projects and their unique IDs (used in Mobile App | IoTize Cloud Project Id) and available build time (Primers have a limited number of builds).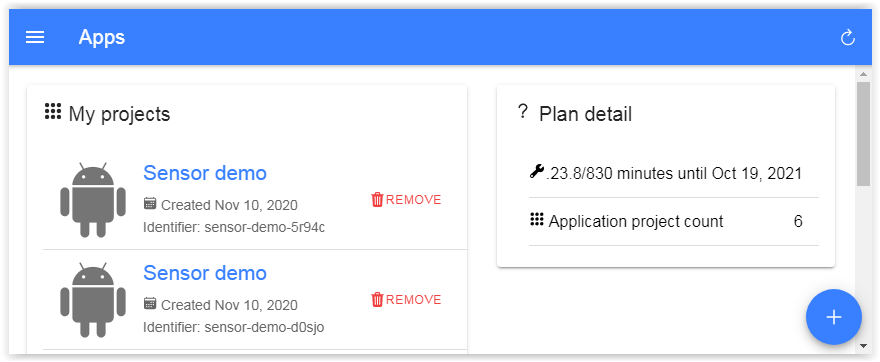 Click on a Project to access:
Applications
Web app: Generates a ready to use static website (HTML/javascript) of your app. You can host generated files on a server or serve it directly from your computer.
Android: Generates an Android Application Package (APK). Download generated APK on your Android device and open it.
iOS app generator (not yet available)
> Ionic/Angular Project source: that you can modify to build a customized app, or that you can open in Studio to ensure that you are using the correct configuration for this project).
Configuration
You can upload a configuration, so that you can edit it.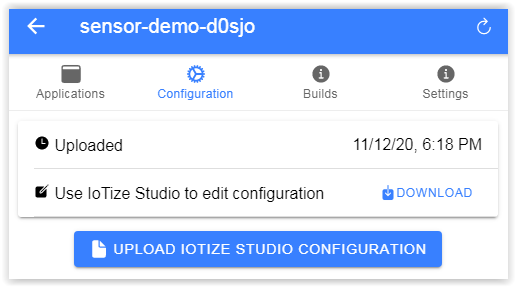 Builds
List of all previous builds.
Settings
The Unique project identifier

Devices
Displays all registered devices and their information. Click on + button to register new devices.
Click on a device number, then choose:
Detail: Displays Hardware and Firmware versions.
Primer Cloud: Displays Primer data logging, and an MQTT password.
Firmware update: Displays available updates.
Unlink button: to remove a Tap from your account (you can add it again if needed).

Connect to device
Click on Connect to device.
Select your chosen communication method (Bluetooth/MQTT).
Click on the Search button and select your Tap.
Click on Connect.
Firmware Update
TapCLOUD can perform firmware updates on your registered Taps and / or generate the firmware update files, if you have to use other methods to update your Taps.
See the Firmware Update page for more information.