IoTize Taps
Whenever you're looking for a remote access solution, or want to have an overview of system's data, IoTize Taps are ready for immediate use and will connect your industrial equipment and devices securely over the Internet. There are several reasons the TapNLink/TapNPass solution is best for you.
With the help of IoTize Taps you will be able to:

Remotely control, monitor, and manage your systems from any location and mitigate the risk of system damages.
Record reliable and accurate data in the cloud. Simply choose which variables you want to log and how often.
Define conditional rules to alert you if your device exhibits any unusual behavior and trigger automated actions.
The main features of IoTize Taps are as follows:

Transparent and secure networking through firewalls. TapNLink could be installed on your systems immediately. No coding nor complicated setup is required.
IoTize App Generator for automatically building a custom user interface for any system that comes without a GUI. The resulting branded mobile application will allow either a local control (with NFC, BLE or WiFi connection) or a remote control of the system over the Internet.
Easy integration in IoT Platforms. TapNLink easily integrates into several third-party platforms with just a few configuration parameters.
Trigger alarms, and assign thresholds to any type of data, in order to react instantly to system irregularities.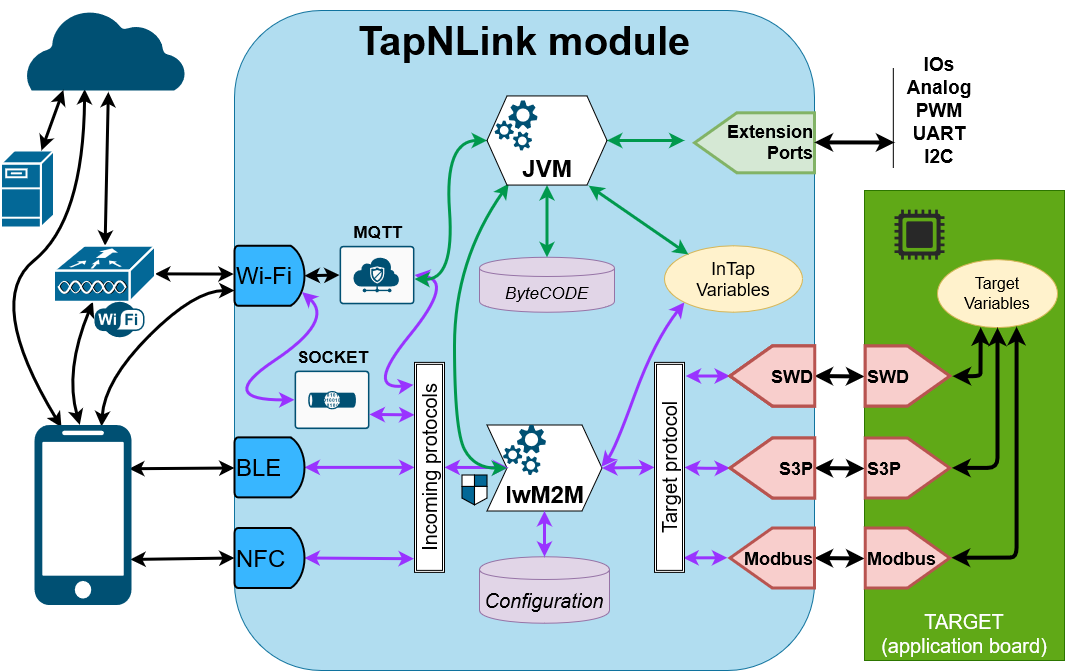 TapNLink interface provides through its lwM2M engine:
a secure access from mobiles through different wireless protocols: NFC, BLE, WiFi,...
a configurable access control management,
several 'target protocols' to communicate with microcontrollers,
Some of TapNLink modules also embed an additional Java Virtual Machine in order to improve the alarm generation, or the handling of input/output ports on the modules.
All the TapNLink modules are configurable from the IoTize Studio software and take advantage of the overall solution that includes:
a 'mobile app generator'. This tool allows to generate by simple clicks an Android APK or iOS IPA.
multiple APIs for Java, JavaScript, Cordova, ...
and generally speaking a complete environment to manage your devices from mobiles, Iot platforms, servers, ...